Allectra is committed to developing new products which can yield technical advantage and cost-saving over conventional components.
By using these products, our customers are able to take advantage of the latest High Technology advancements we have been able to identify. For example, our Circular Miniature Feedthroughs are compact and can still hold up to 19 pins. They have now been adopted as a standard by Synchrotrons worldwide.
Our physicists and engineers originate, develop and manufacture components for the High Technology marketplace. These components have included Fibre Optic Feedthroughs, Circular Miniature Feedthroughs, Sub-Miniature D Type Feedthroughs and High Frequency Feedthroughs (up to 40 GHz).
High Current standard Sub-D Feedthroughs
A new pin technology means standard Sub-D feedthroughs with 9 to 50 pins can now be used for significantly higher current ratings. The continuous current per pin is 6A (all pins loaded) and for short periods, 10A per pin, by using special crimp pins and a new in-vacuum cable.
Opposite:2 x High Current (HC) 15 -pin Feedthroughs on a 63CF flange. With 30 pins, these feedthroughs can transport 180A continuously or up to 300A for a short time into the vacuum system.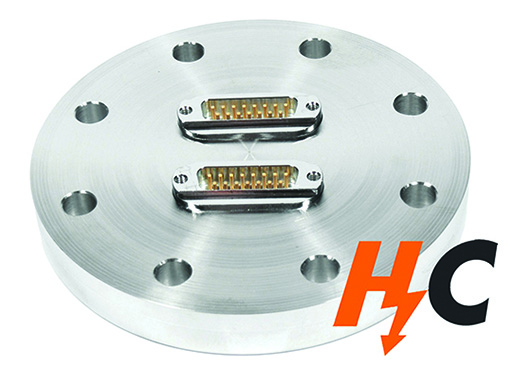 ---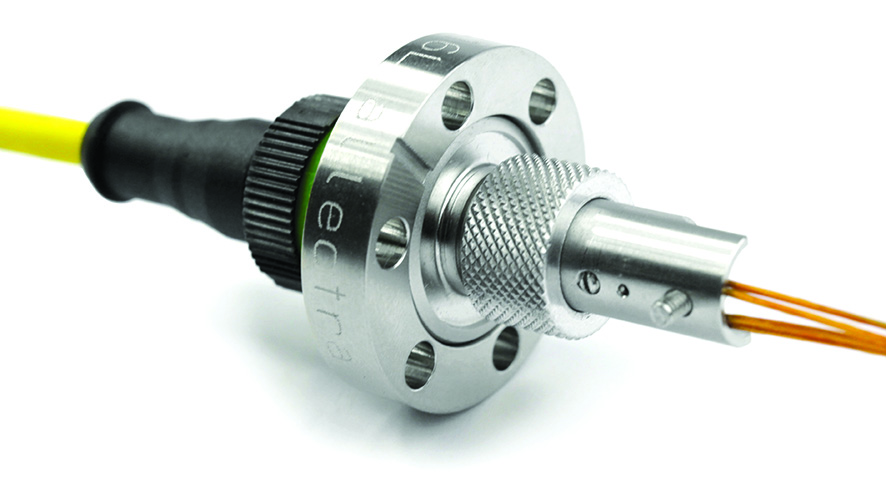 M12 Feedthrough
Allectra offers a UHV M12 Feedthrough including UHV compatible connector. For less demanding applications, HV and standard connectors can be used on both sides.
M12 Connectors are very commonly used for industrial automation and sensor applications.
The Feedthrough has 4 pins and a voltage rating of 250V. The maximum current is 3A and the temperature range is -200°C to +230°C.
For air side use, Allectra offers Quick Disconnect connectors, which only need a 90° turn of the nut to be secured. Allectra recommends the shielded double twisted pair wire 311-KAPM-060-PAIR2 to be used with this feedthrough.
PT100 RESISTORS WITH A SCREW CLAMP MOUNTING
Allectra offers a wide range PT100 resistor for precise temperature measurement between -200°C and +750°C. The class A resistor offers very low tolerances and a higher stability than thermocouples.
The resistor is offered on its own, with 3 or 4 cables connected and as a set including thermal contact foil and screw-on clamp.
Image: 343-PT100-C1, Actual dimensions 1.6mm x 5mm
---
---
THE ALLECTRA TRIAXIAL FEEDTHROUGH 50 Ohm
The Allectra Triaxial feedthrough 50 Ohm is designed for use with cable which has a shielded conductor, which is itself surrounded by a second isolated shield. The conductor and inner shield have insulated paths through the feedthrough while the outer second shield is connected to ground. This is the ideal component for low current or voltage measurements, where high accuracy and lowest disruption of the signal are required. For example, this component can be used for accurate beam positioning for synchrotron type applications.
RADIATION RESISTANT KAPTON INSULATED WIRES
Allectra now offers special radiation resistant Kapton® insulated wires. Compared to the standard wires, the radiation resistance is increased by a factor of 100. Also, the maximum usable temperature is higher and goes up to 300°C.
The following sizes are available:
Multi-strand wire, 0.35mm diameter 311-KAPM-035-RAD
Multi-strand wire, 0.4mm diameter 311-KAPM-040-RAD
Multi-strand wire, 0.6mm diameter 311-KAPM-060-RAD
Multi-strand wire, 0.8mm diameter 311-KAPM-080-RAD
Multi-strand wire, 1.0mm diameter 311-KAPM-100-RAD
Multi-strand wire, 1.25mm diameter 311-KAPM-130-RAD
Multi-strand wire, 1.44mm diameter 311-KAPM-150-RAD
50 Ohm Coaxial wire, 311-KAP50-RAD
Thermocouple Type K, 2 x 0.25mm ø311-KAP-TCK-RAD
(For thinner wires, the dipped wires 311-KAP-010 to 311-KAP-040 can be used as an alternative with similar specification)
---
---
PRESSURE BURST DISKS THREE VERSIONS
Allectra has introduced a Low Pressure version of the standard Pressure Burst Disk and an Ultra Low Pressure version. The Allectra Pressure Burst Disks are designed to rupture and release gas in the event of potentially hazardous pressures greater than atmospheric pressure occurring in the Vacuum System.
The Standard type: membrane ruptures at system pressure of max. 1.7 bar overpressure
Low Pressure type: membrane ruptures at system pressure of max. 0.8 bar overpressure (ASME-UD certified)
Ultra Low Pressure type: has a rupture pressure below 0.5 bar overpressure on a 63CF or ISO63 flange. With this component, the overpressure regulations do not apply to the system.
Some features of the Pressure Burst Disk are as follows:
-UHV compatible, high bakeable to 350°C and leak tight to <5×10-10 mbar l/s
-It is essential for all systems with LN/LHe cooling.
-Optional gas recovery system is available.
-DN40CF and DN16CF versions / KF types and custom flanges
RADIATION RESISTANT WIRE WITH PEEK INSULATION
PEEK insulated cables combine high radiation resistance and a very high insulation resistance over a broad temperature range.
These are outstanding properties for use in Ultra High Vacuum Systems. The low water absorption in air (0.1%) combined with a high diffusion rate of water also make it ideal for systems which cannot be baked.
The high insulation resistance and a high breakdown voltage make this insulated cable ideal for delicate signals and high voltage applications.
---
---
---
LIMIT SWITCH – TECHNOLOGY FOR NUCLEAR FUSION
This switch (363-VH3-1) is a high temperature, high radiation resistant switch with all materials compliant to ITER specifications.